Basic information
Eislerova dormitory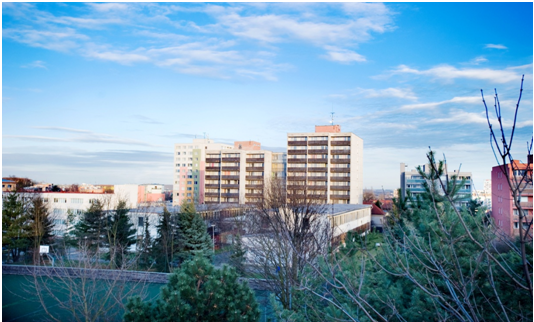 Eislerova Hall of Residence is a one concrete high-rise building divided into two wings with eleven and nine floors with their own lifts, with the total capacity of 411 beds. The building was built at the turn of the 70's and 80's. Over the last few years, intensive reconstruction of student accommodation has been taking place for the summer months. Student housing is designed as an accommodation unit. These are four-beded "apartments" of two rooms with a shared corridor with a kitchen, bathroom and toilet. This dormitory has 18 single rooms with their own sanitary facility. There are student accommodation in dormitory rooms for 288 people and a capacity of 72 single rooms. The hotel offers accommodation with a capacity of 33 beds. Apart from the accommodation unit, there are also studying rooms, a club room with kitchen, a gym, treadmills, relaxation zones, washing machines and dryers or drying room.
The location of Eislerova dormitory is very good for student accommodation. The dormitory has very good accessibility. Tram stop Chmelnice is a 1 – 2 minute walk away from the dormitory and you can get to the city center in 20 minutes (Wenceslas Square).
Campus Jarov offers many other services – refreshments, playgrounds and a pleasantly landscaped park with places to relax, or a barbecue with friends. Behind the campus, there is a large park called "Židovské pece", and a relaxation zone follows stretching along down to goods railway station.
There are football field and volleyball court located just in front of the dormitory. Menza (students' canteen) offering lunches and dinners daily is located next to the dormitory. You may use the offer of various restaurants or pubs from the surroundings. There is also MAGNETO bar not far from the dormitory.